Sri Anagha Datta Society of Calgary encourages cultural, spiritual and religious activities.
As a part of the cultural support, the organization supports several local schools which impart training in Indian Classical arts.
Natyanjali is a classical dance festival that encourages students who learn Indian Classical Dance forms to participate and showcase the art forms and the cultural heritage of India. Natyanjali 2019 will be held at the Wright Theatre, Mount Royal University, on May 11th 2019.
The Festival was organized by Sri Anagha Datta Society of Calgary and seeks participation and sponsorship.
Dance Schools all over Canada may participate in this, please email info@anaghadatta.org for more info and participation criteria.
Sri Anagha Datta Society of Calgary has been conducting the Natyanjali Dance Festival in Calgary since 2007.
---
2019
May 11 2019 – Featuring amazing Local, Regional, National and International artists.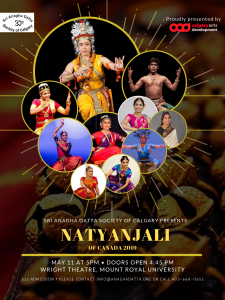 2018
May 12 2018 – Get your tickets now.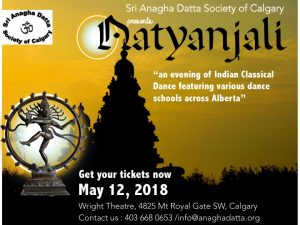 2017
2016
2015
Sri Anagha Datta Society has been conducting the Dance and music festivals annually since 2008 with help of local artists and teachers. Some of our most successful shows are.
Dance show Kingini 2008.
Vocal concert by Janani Ganesh 2008
Composers Day – Cardel Theatre 2009
Gurupoornima celebrations felicitating all Calgary Classical Gurus with presentation by their local students. 2009
Composers Day – Cardel Theatre 2010
Violin Concert Aarthi Shankar 2010
Violin Trio concert 2011
Shabdham Dance show 2011
Vocal Concert Abhishek Raghuram 2012
Composers Day – Hindumandir 2013
Composers Day -Shirdi Saibaba Mandir 2014
Canadian Classical IDOL (assisted SarbAkal Music Society). 2015
Natyanjali of Canada 2015 – dance festival – Mt. Royal University – Wright theatre
Composer Day 2015
Composers Day 2016
Natyanjali 2016
Over the years, we have supported several other groups in Calgary.