||Ganapati Bappa Moria||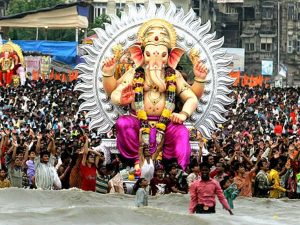 Sri Anagha Datta Society of Calgary is very excited to announce that for the very first time in Calgary, We are able to perform a procession of Lord Ganesha in downtown Calgary as a Ganesha Utsav Procession. We aim to make this an annual event.
On Saturday, September 15th from 9:30am we will all meet at the Olympic Plaza (228 8th Ave SE), and walk along Stephen Avenue/8th Avenue SW to Shaw Millennium park (behind Mewata Armories). The procession will start at 10am.
Please join us in this FIRST TIME EVER in Calgary event of the Ganesh Utsav Procession. We welcome all devotees to join us in this wonderful celebration. We welcome all singers, chanters, dholak, mridang, kanjira, dafli players to bring your instruments and make this a joyous Annual occasion. (Mark your calendars for next year as well 2019 – Sept 7th, as it will be an Annual event for Sri Anagha Datta Society of Calgary)
All devotees are requested to join in Dandia/Garba along the road.
We would love to bring Ganapathy's grace to Calgary! Please inform all your friends and families to join us on September 15th from 10am and seek the blessings of Ganesha.
9:30am – Ganapathy Puja
Sanakalpam
Kalash sthapana
Ganapathy Dhayan/Chanting
Ganapathy Puja and Offering of flowers by children.
Nyvedyam offering of Coconut
Aarti
10:00am – Procession Starts.
Singers can Sing bhajans
Dandia open to all devotees along the road – Everyone is welcome to rejoice.
12:00noon – Procession ends at Shaw Millennium park.
*Prasad will be distributed in a Ziploc bag at the end of the procession
2:00pm – Ganesha Truck departs.
Stay back at the park to socialize and rejoice.
Om Sai Ram | Bolo Ganesh Maharaj ki Jai