Starting August 1st,2016 Pandit Rajkumarji will be teaching the chanting of Sri Rudram. The plan is to have the class between the Dhoop and Shej Aarti from  7:30pm to 8:30pm (Mon, Tues, Fri, Sat, Sun).  On Thursdays the Class will be from 6pm to 7pm,  This will be a good opportunity for children to learn this sacred chant, along with the parents. All are welcome to join in learning this divine chant.  Timings are subject to change.
August 7 – Nag Panchami
August 12 – VaraLakshmi Vrat (August 5/ 12/19/26 – Lakshmi puja)
August 17 – Rakhi / Sravan Poornima (Satyanaryana vrat 5:30pm)
August 21 – Srinivasa Kalyanam. Lord Venkateswara Kalyanam will be performed in our temple by priests from Tirupati.  Seating is limited, please contact the temple to confirm and obtain your tickets. Donors requested for flowers, Sarees, Mangal sutra, etc.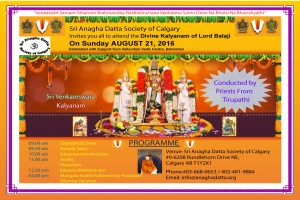 August 25 – Krishna Janmastami