Sri SHIRDI SAI BABA MANDIR in Calgary.
Venue: #9 – 6208 Rundlehorn Drive NE, Calgary AB, T1Y 2X1
Temple needs your help- Please donate now .
Covid-19 precautions in place. Please follow social distancing guidelines.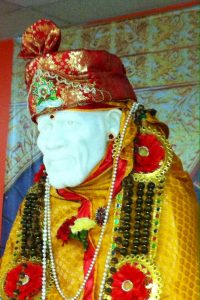 Dhyana Sloka
Om Kaali, Taara, Chinna-masta, Shodasi-maheswari,
Bhuvaneswari, Tripura-bhairavi, Dhoomravathi,
Bhagalaamukhi, Maatangi, Kamalaa-laya,
Dasa-mahaa-vidyaa Swaroopini, Anaghaa-devi Namosthute
Guru: In Hinduism a Guru is a preceptor giving personal religious instruction. An intellectual or spiritual guide or leader.
Parampara: denotes a succession of teachers and disciples in traditional Indian culture and Indian religions. It is also known as guru-shishya parampara ("succession from guru to disciple").
The Sanskrit word Parampara means an uninterrupted series, succession, continuation, mediation or tradition. In the traditional residential form of education(gurukul), the shishya(student/protégé) remains with his or her guru as a family member and gets the education as a true learner.
In some traditions there is never more than one active master at the same time in the same guruparamaparya (lineage).
In the Sri Guru parampara, the first guru is the Lord Datta Guru. Subsequent to this Sripada SriVallabha, Nrusimha Saraswati, Manikya prabhu, Akkalkot Maharaj (Swami Samarth), Sadguru Sai Baba of Shiridi and Sri Satya Sai baba of Puttaparthi are known to be the incarnations of this lineage.
Subpages